10 Best Places for Wedding Photos in NYC Insider Choice from a Local New York City Photographer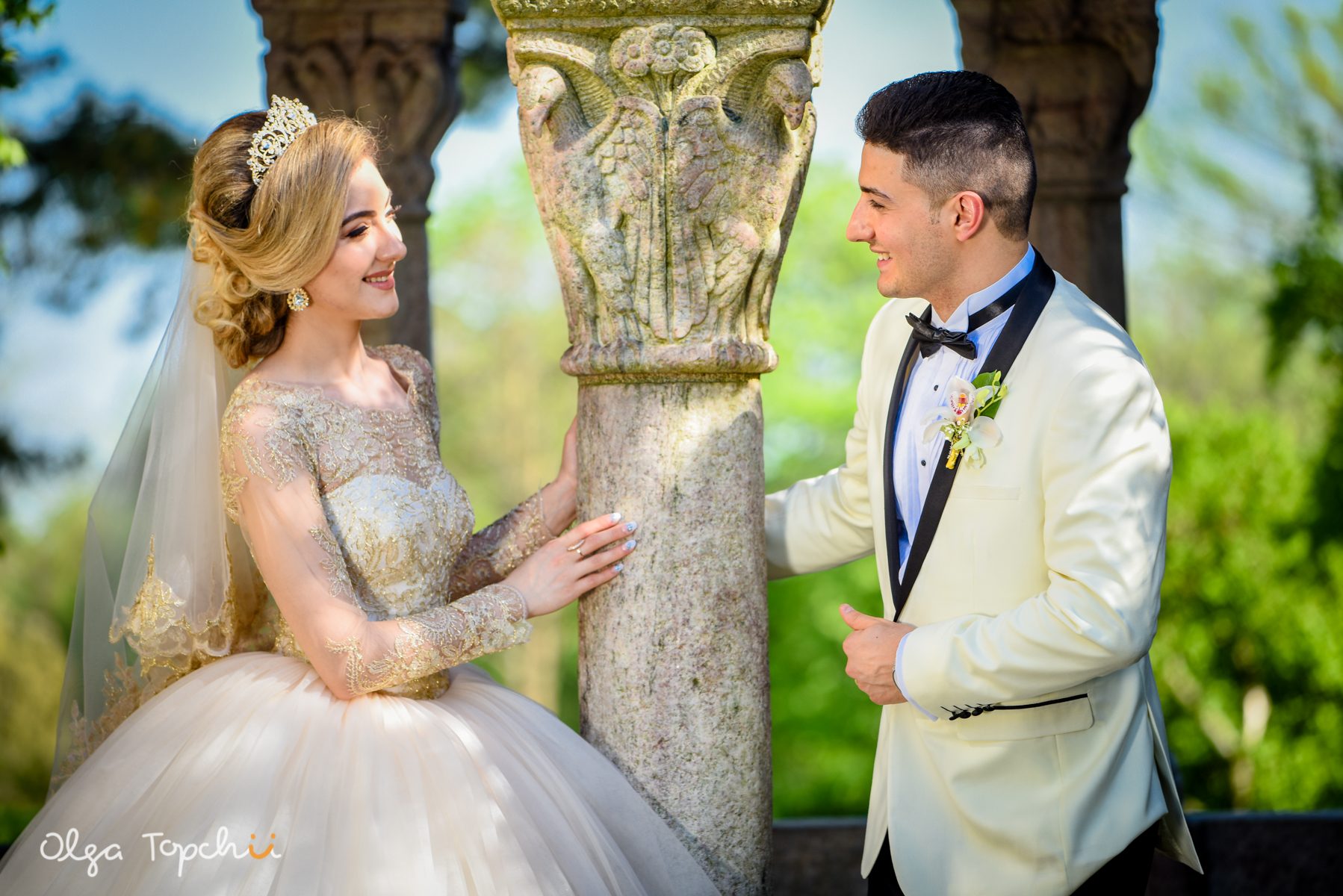 New York City is one of the most coveted cities for a wedding, welcoming tourists from every corner of the world. It's home to over 8 million people and over 60 million people visit it each year. With such a large population, it's challenging to have a wedding photoshoot where people won't bump, grind, and shove as you're trying to capture the most important day of your life.
Skip the iconic tourist traps and hold a photoshoot where you will be the center of attention.
Here are some of our top picks for unique locations for your New York wedding photos:
Stunning for both outdoor and indoor photoshoots, this venue includes a museum with medieval architecture, focusing on the Romanesque and Gothic periods. The cloisters and garden will transport you back to a time of kings and royalty, making you look and feel like a true princess in your wedding photos.
Tip:
Try to avoid going there when the Metropolitan Museum's main location has exhibits that just opened, as this location will also likely attract a swarm of tourists during that time.
Check out the Wikipedia page for a full description of the Met Cloisters' rich history.
When to go:
Mon – Fri: 10am-5pm
Sat: 10am-12pm
Sun: 10am-12pm; 4pm-5pm
Also called the Esplenade, this beautiful 1,826 ft walkway has breathtaking panoramic views of the city skyline on one side and lush greenery on the other. It's a calm and serene walkway that is ideal for those wishing a view of the city as their background in a quiet location.
Tip:
Head to the end of the walkway to get shots of a beautiful armillary sphere in a secluded nook with benches.
When to go:
Mon – Wed: before 11am; after 6pm
Thu – Fri: before 12pm; after 4pm
Sat: before 12 pm, after 9pm
The 52-acre botanical garden holds over 14,000 taxa of plants and includes multiple gardens within gardens, as well as a conservatory. From the rose walk to cherry blossoms, lilacs and bonzai trees, this is a truly magical place.  With lush trees and the abundance of flora, the colors on your photos will stand out and its beauty will highlight yours.
Tip:
Check out their website for plants in bloom. If you have an affinity for any flowers, you are almost certain to find them there. Brooklyn Botanic Gardens also hosts weddings and events.
When to go:
Mon – Fri: 10am-6pm
Sat: 10am-12pm; 4:30pm-6pm
Sun: 10am-12pm; 4:30pm-6pm
This research library and museum is a complex of buildings which house rare books,  manuscripts, drawings and scholarly research materials, all surrounded by antiques. The original building was constructed in the Classical Revival style and its interior is decorated with a polychrome rotunda which leads into various rooms filled with treasures. It's a stunning space, perfect for bibliophiles and those who revel in antiquity.
Tip:
The library hosts private events so if you haven't already settled on a venue for your wedding, consider this one. You will also need to make arrangements with management for a photoshoot well in advance.
When to go:
Tue-Thu: 10:30am-5pm
Fri: 10am-6pm
Sat: 9am-11am; 5pm-6pm
Sun: 4:30pm-6pm
The Old City Hall Station features gorgeous tile ceilings, chandeliers and skylights. Although it is no longer in operation, it is accessible to visitors by purchasing a tour of through the New York Transit Museum. If you love history and are not phased by the complicated admission process, this location is a unique place for your wedding photoshoot and will leave you astonished by its wonders.
Tip:
The location allows personal photography but does not allow tripods and stands so make sure to consult with your photographer and work out a plan.
When to go:
Tue – Fri: 10am-5pm
Sat: 10am-1pm; 3pm-5pm
Sun: 10am-1pm; 3pm-5pm
Tudor City Bridge is one of the most hidden gems of NYC. It's a secluded area on top of Tudor City (an upscale apartment complex) which offers unobstructed views of iconic buildings and NYC streets. Here you can capture stunning wedding photos of sunsets and nighttime shots.
Tip:
You need to take the stairs to the top, so make sure to bring flats as you walk up.
When to go:
The area is unknown to most people so almost any day/time will work. However, do try to avoid the lunch hour when more people will come there on their lunch break.
The 67-acre park is open to the public year-round and has many secluded areas. From here, you can get views of  Hudson River, the George Washington Bridge, the New Jersey Palisades, Washington Heights, Inwood, The Bronx and the Harlem River. This is also the park where the Met Cloisters are housed. The park offers ample areas to have an outdoor wedding photoshoot which will capture the serenity of nature and views of NYC at the same time.  
Tip:
In addition to the views, there are many hidden archways, paths and gardens to explore so try to arrange a visit prior to your photoshoot to select your favorite locations.
When to go:
Mon – Fri: all day
Sat – Sun: 7am- 11am; after 5pm
8. Mandarin Oriental Hotel and Rooftop
Located 258 feet above ground, this is one of the most exclusive hotels in NYC with luxury indoor architecture and decor, city views, and sculptures. There are multiple lounge areas and a magnificent rooftop bar and lounge from which you can capture great shots.
Tip:
Grab a room for one night to enjoy all the amenities of the hotel and unrestricted photoshoot access. It is quite pricey, but well-worth it.
When to go*:
Mon – Fri: 7am-5pm
Sat – Sun: 7am-10am
*There is a rooftop lounge which opens at 6:00 pm. Call management to make arrangements for the least busiest times.
Discovered in 1527 by Giovanni da Verrazzano with the original Dutch colony established in 1609, and its amusement park officially opening in 1895 (Sea Lion Park), today Coney Island is still famous for its beach, boardwalk and theme park. It spans almost three miles where you can get wedding photos with backgrounds of the beach and the historic Cyclone and Wonder Wheel.
Tip:
Head closer to the end of the West side of the beach where it will be even less crowded.
When to go:
Most days/times during off-season (Nov 1- May 1). Weekdays during late spring/early summer/early fall.
10. Snug Harbor Cultural Center
About an hour from Manhattan, this 130-acre location is one-of-a-kind. It's a collection of unique architecture, landscaped grounds, 9 gardens, castels, fountains, ponds and more. With so many areas in the center to choose from, you are certain to have the photos of your dreams.
Tip:
Photoshoots require a permit and enable for a two hour session. Do some research on your preferred locations and work with your photographer to outline a plan.
When to go:
Mon-Fri: all day
Sat: before 12pm
Sun: before 12pm; after 4pm